The RolaPlus roller blind is based on two basic functions that condition his structure: the hiding of the railing elements through a quality roller blind that protects from the sun and gives security to the house. RolaPlus is full of advantages, the isolation is perfect and its maintenance is easy, thanks to a clipping system that improves aesthetics.
In addition, it allows the accommodation of all types of sheets, mosquito nets and blinds.
RolaPlus is offered in different sizes, depending on the elements included in it and the height of the cloth to be covered: windows, doors, balconies, etc. The boxes have depths ranging from 17 cm to 26 cm, available in white and colored.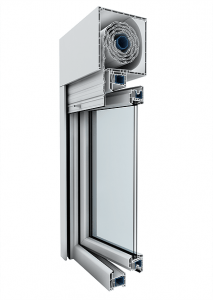 Shutter blades
Kommerling blades are the ideal complement for windows and doors. Their operation is essential for a better isolating function of the blinds. It also increases the sound isolation and allows his use to protection from the sun. The main types of blades are PVC, aluminum and self-locking (security).
Guides
The Kommerling PVC profiles for roller blinds cover all possible types of closure and demonstrate an excellent result in terms of duration and resistance to external agents.
Motorized blinds
Integration of the most modern motorization systems, as well as different and innovative remote control drives and supports for them.
Energy saving and thermal isolation: Average U-value of 1.12 W / m2K
Soundproofing: up to 40 dB outside noise reduction.
Maximum degree of wind resistance: up to CLASS C5
Maximum rating for water tightness: up to E2250.
Maximum classification in air permeability: CLASS 4.
Security: Kommerling PVC stands out for his robustness and high impact resistance. In addition, it incorporates self-locking blades to reinforce security.
RolaPlus is available in the entire Kommerling color range. Select from the wide variety of plain colors or approve a different texture with wood finishes and metallic tones.
In addition, the innovative Kolorten system offers us more innovative colors within the current architecture for any type of construction as it has more than one hundred shades of the RAL chart.