This system is the next generation of Kommerling profiles with a frame depth of 70 mm and rounded shapes, these profiles considerably improve the isolation performance, while providing a new aesthetic to the carpentry.
The Kommerling side opening window and door systems, characterized by their great hermeticity, are the ones that achieve the best levels of thermal and acoustic isolation. EuroFutur is the most complete system for doors and windows. His five-chamber design achieves a thermal transmittance value (Um) of 1.3 W / m2K (with frame 0101 and sheet 0113). This value satisfies the most stringent requirements of the new national and European standards.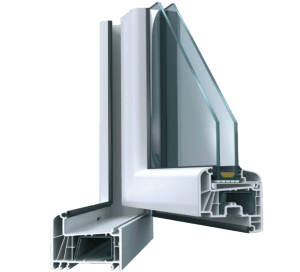 Fixed (or collapsible): The sheet opens by rotating on the vertical axis;
Foldable (horizontal rotation): The sheet open and rotates on a horizontal axis;
Oscilobatente: It allows the sheet to open in two ways, combining the previous two;
Pivoting Aperture: Leaf rotates around a central axis, usually horizontalFoldout: The leaves collect against one side of the opening.