Kommerling presents the new PremiLine System. The main feature is to allow the creation of large window surfaces based on sliding windows, allowing 4 mm glass. – 28 mm.
The PremiLine sliding system for doors and windows achieves smooth and quiet sliding thanks to its solid structure and the design of its aluminum or stainless steel gutters.
PremiLine is compatible with all standard 70mm systems and the RolaPlus roller blind. The expanders, sills and other accessories can be used without any problem. In terms of thermal isolation, Kommerling windows together with suitable glass can reduce up to 32 times (50dB) the sensation of outside noise.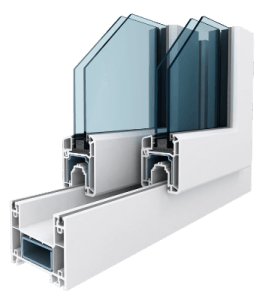 Due to its technical characteristics, PremiLine allows an easy and silent gliding. And due to his elegant aesthetic design (double beveled leaf profiles) it combines perfectly with all types of decorations, giving a touch of distinction to any environment.