The PremiDoor lift slide combines an elegant design with the most advanced KÖMMERLING technology for large glazing and allows the construction of spectacular closing elements with a very light slide.
PremiDoor can be constructed with large closures (up to 3m per sheet) with excellent tightness. Different construction variants of fixed and sliding sheets offer the best conditions for a luminous architecture. The fittings guarantee safe operation and simple use. The smooth and quiet movement of the sliding lift doors is a special feature of these systems. The profile has 4 isolation chambers and an airtight double seal that guarantees its tightness.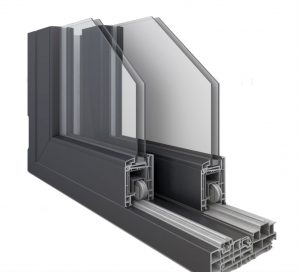 . Traditional Sliding Door(Horizontal): The usual two-leaf sliding door. The finishing joints are made of a brush, so the tightness and insulation values ​​are slightly reduced when it comes to fixed systems;
. Lift Corridor: Fill a large opening, as it allows the manufacture of doors almost 3 meters wide;
. Oscillating-parallel runner: The door to open must leave his scheme and slide over a fixed side element. In the closed position it is completely airtight.